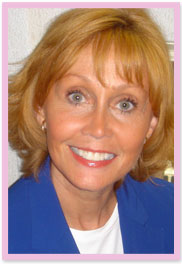 Nancy Nelson
Born Nancy Ann Nelson in Minneapolis, MN, to father Willie Nelson, a self-employed food distributor, and Florence Picott Nelson, an office manager, Nancy was an only child, raised in the home in which her father was born.
Nancy began performing on the amatuer stage at the age of 8. She was on the professional stage one week after graduating from high school. During her senior year in high school she hosted a daily live television program in Minneapolis, Minnesota - rather like a local American Bandstand.
While a student at the University of Minnesota, Nancy was named Miss Minnesota and went on to place as second runner-up to Miss United States. She was recognized in Washington DC as one of America's Outstanding Young Women, and named Miss Minnesota a second time in the Miss International Beauty Pageant.
Married to Bill Carlson, a television news anchor at a competitors station in Minneapolis, Nancy worked constantly in television by day – game shows, a daily live talk show for nearly 15 years, news reporting and news anchoring – and on stage professionally at night. Along the way she was in a few motion pictures, including the original AIRPORT.
Bill and Nancy have one daughter, Susie, and a house full of animals – multiple dogs and cats and birds. Involved tirelessly in animal welfare organizations, they feel strongly about the protection of those creatures that cannot speak for themselves.
Nancy's career expanded a bit when she took a job anchoring news in Los Angeles. She would work in LA Monday through Friday, fly home to Minneapolis Friday night, and back to LA to work on Sunday night. While in Hollywood, Nancy did a number of syndicated television programs, guest appearances on national programs, several pilot programs for various television networks, and was also a radio talk show host in Los Angeles.
Then something very new came along - television infomercials, and Nancy found herself on the cusp of a new television industry. As the business built, so did Nancy's success. Ultimately she was named by Forbes as one of the ten most effective sales people on television, dubbed by CBS network as the "Queen of Infomercials", and recognized as "Presenter of the Year" by the infomercial industry's professional organization, ERA. Nancy became a national household name and face with her dozens and dozens of infomercials and the myriad of products she presented on the various television shopping networks. To her surprise, her notoriety became international, as her infomercials were played in Japan, Russia, Sweden, Denmark, Norway, Germany, Mexico Israel, Spain, France, as well as Canada and England.
These days Nancy can be heard daily on radio station AM950, bringing her interview talents, journalistic insight, and personable approach to national and local news stories.
A long and happy career, still in full force, Nancy knows how fortunate she has been. The best part of her life….her beloved husband, Bill Carlson. Nancy always talks about "living in gratitude" with compassion and empathy. Every day is a treasure.